With the past year flipping the world as we know it upside down, many company CEOs have been forced to reconsider their workspace. An enforced take-up in remote working – coupled with the accompanying tech advances to make it easier – means 2020's great work from home experiment has the potential to reshape corporate culture forever.
A recent Institute of Directors survey found more than half of executives intend to allow staff to work from home more permanently, with a major rethink of our existing office space inevitable. Many companies will now be contemplating how a different sized space may better suit their needs, or if a refurb might be just the tonic needed to get employees back at their desks post lockdown. But let's talk about the elephant in the room: money. In the midst of an economic recession, an office move or refurbishment is a significant investment for any business. Costs may come as a shock and if your company has never faced similar upheaval before (perhaps you're moving into your first personalised space), it's likely you'll need to manage the expectations of other stakeholders, who will want a smooth transition and a job done on time and to budget. So before taking the plunge, it's important to understand the different options available.
Stick or twist?
Could a refurbishment of your existing office save money and deliver the goods? According to Commercial Director Paul Brown, this will all depend on the space. "It can be cheaper to refurb an existing office if a company haven't been there long, and it's just a light touch – carpets, lighting, decor," he says. "But costs can add up. If a company has been there for longer, a refurb might mean replacing ageing lighting or mechanical kit that's coming to the end of its life. In this instance, it might actually be cheaper to move to a new Cat A space with brand-new facilities."
Choose your path
For those considering a complete new fit-out, there are two main routes available.
A traditional procurement process features several stages – design, bid and build – and will see you appoint an architect or designer, M&E consultants and furniture brokers to develop a design before inviting bids from construction contractors. This approach gives you the closest level of control over a project, overseeing contracts with all parties. Yet the process might also take longer as tenders for both design and construction will be issued separately, communication between all parties provides additional responsibility and you'll also take on the risk of unforeseen costs and extended schedules.
The second option is known as design and build, whereby the whole process is handed over to a designated company that takes on responsibility from initial design right the way through to handing over the keys. "We typically start with a blank canvas," says Brown on this approach. "Following a site visit with the designers we'll create a space plan that we'd then present to the client, taking in any feedback before building a full project brief based on that." This is where full costings come in, starting with walls, doors and teapoints as well as mechanicals, walls, toilets and storage – all of which can be relatively straightforward to put a number against. The design team then considers the many different available finishes, from flooring to joinery and the design and branding touches that make a space truly unique.
"We've got four or five contractors for each discipline we need. We've worked with them for many years and we can rely on their costs, quality of staff and work on-site. We call on them to price for the work that might be required so we have accurate figures from the start, from big-ticket items right down to the last power point. With everything accounted for, we provide our prospective clients with three different quotes on a sliding scale – bronze, silver and gold. Each delivers granular detail with every element measured and listed, with our team on hand to discuss all the options directly with the client, or an appointed cost consultant. Typically, we look at cost as a price per square foot and we've delivered projects that range from £30 to £200 a square foot. We prefer to understand budget expectations from the start but there are times when we've designed without any financial guidelines."
"The industry has historically been pretty famous for selling you the dream but not living up to it," says Brown on what makes Thirdway stand out. "Where I think we're different is that we're as transparent as possible. We approach things in an honest way and show clients absolutely everything. Sometimes this generates a higher initial costing but from there we can work backwards by value engineering – finding ways to do things cheaper, perhaps flooring or joinery or different types of timber. From the moment the design is pinned down, a contract amount is agreed and the costs to complete the work are fixed. This approach gives transparency and trust to our relationship with the client."
We really appreciated how transparent Thirdway were about price from the start and how they made the project work hard to fit our internally determined budget."
Adding branding
When it comes to costs, one element we encourage clients to emphasise is brand integration. Adding branding to a space – whether through colour palettes, furniture, artwork or other design touches – can really personalise a space, making it a more engaging environment for both employees and visitors. Often, brand integration elements are the first to get cut when the costings are broken down and money needs to be saved but according to Brown, brand has great value in influencing culture and creating first impressions.
He points to the London HQ of digital banking brand Revolut as an example of where we helped reduce costs without compromising on branding. It's a striking design featuring a pared-back industrial aesthetic given character through neon artwork directing staff to "Get Shit Done" and "Never Settle".
"With the Revolut office fit-out we managed to work with the existing fabric of the building and deliver a low-cost fit-out of category A and B office space. We used lovely big branding features to bring the space to life," he says, "highlighting how our design team are able to think creatively to achieve results everyone is happy with".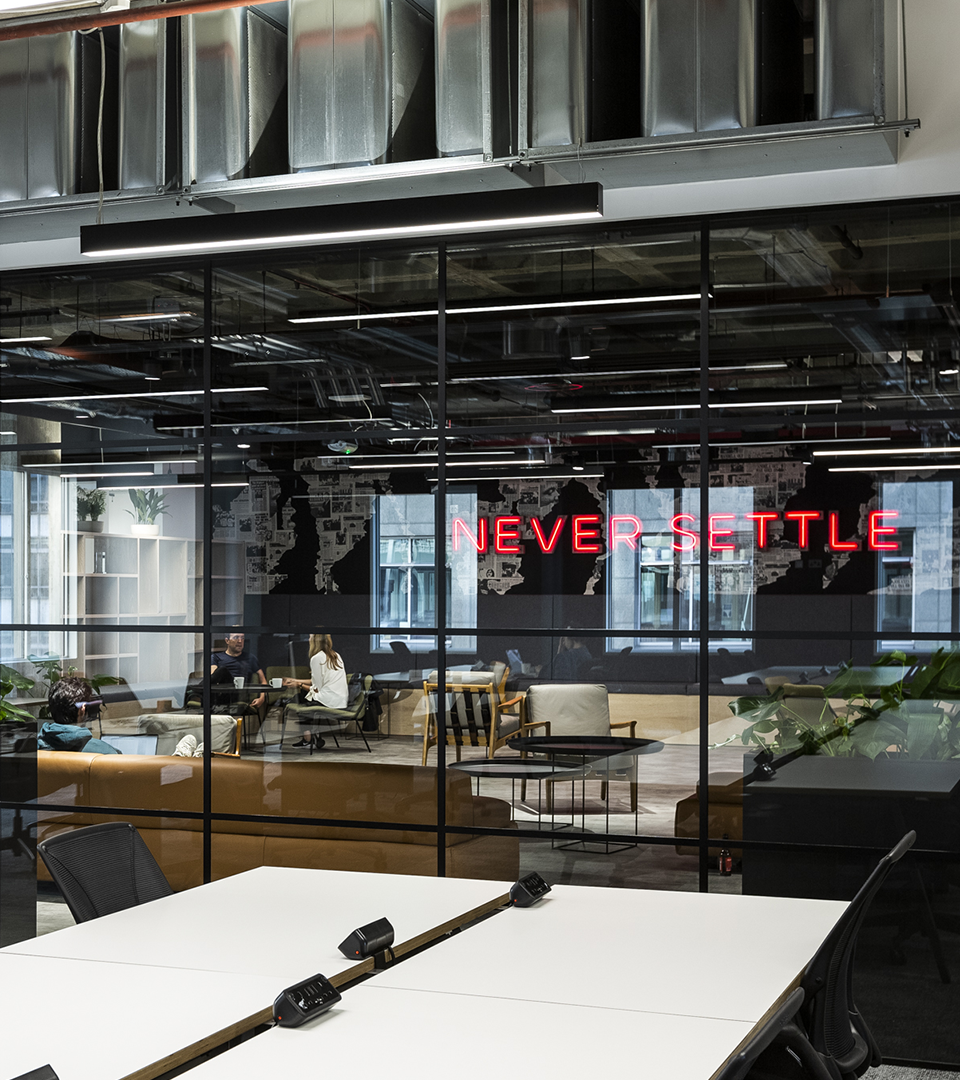 Make it work
At Thirdway, our focus is on making your potential new office look good, feel right and come in on budget. We can help you achieve your new fit-out through either a traditional procurement or design and build approach and as we're a family of companies across various disciplines we can tailor our service to your requirements.
The cost of an office refurb or new fit-out has many facets to it, and by fully understanding your budget expectations at an early stage we can deliver an office that meets your brief and that you can afford. Allowing you to anticipate a brighter future in your new made-to-measure home from home.