Your once-ideal office space is getting snug as you near hiring your 100th employee. What seemed functional 3 years ago has become outdated. A new office is officially on the cards.
If you've never undertaken a project like this before, one of your first concerns will be how to approach it – the "traditional" way or "design and build"? We're here to explain the difference between the two so that you can work out which route gives you the outcome you need.
Design and build
The design and build method is when both the design and construction parts of a project are agreed in a single contract meaning one company takes full responsibility for designing and delivering your office. As the client, you'll receive a complete service in one fell swoop which streamlines the process for you from the outset and means you'll usually only need one point of contact.
It's no secret that Design and Build used to have a bad rep, often referred to as 'builders in suits' who sold ideas that wouldn't come into fruition. As the workplace has evolved in the last decade, so has the D&B industry. You can now expect to engage with a company backed by a talented and diverse workforce, with creative designers, skilled builders, and workplace engagement specialists all working together to create something special.
Projects are often led by Office, Culture or HR Managers who haven't managed a fit-out before, so a key benefit of working with an experienced D&B company is that they'll take the stress out of the unknown.
With everything in-house, you have just one team working towards your goals.
Design is priced as it's developed which makes it easier to design to your budget
Cost certainty as the construction costs are fixed on the agreed design.
Programme certainty due to a fixed design programme.
Faster delivery time as design and construction phases can overlap
Design responsibility sits with the building contractor, meaning less risk from a programme and cost perspective if design changes do occur.
Greater buildability (the extent to which the design of a building facilitates the ease of construction).
Some of our clients employ an external project manager to help choose, and then work alongside, the appointed D&B team though we typically only see this when a project is more than 10,000sq ft.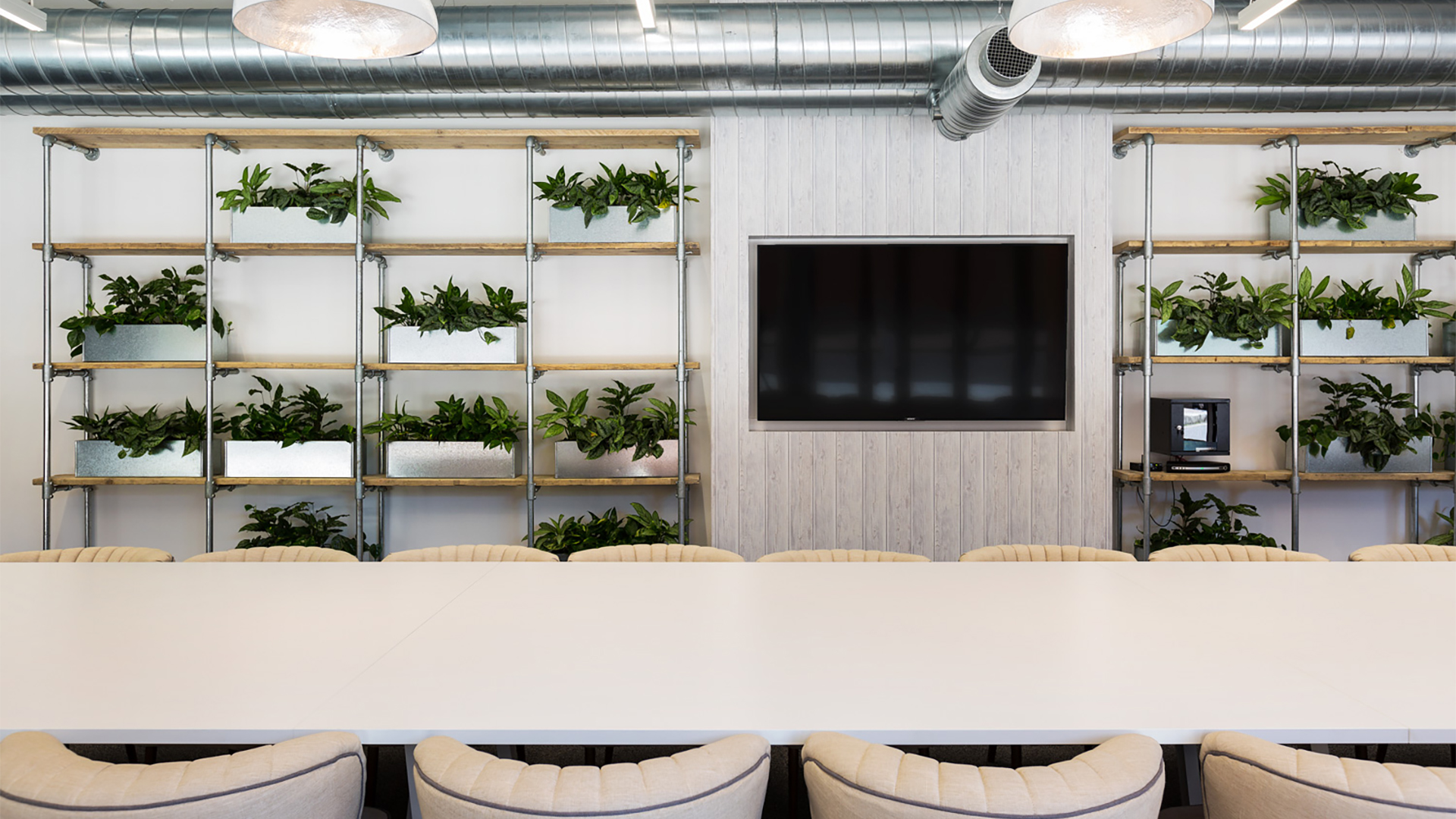 Traditional Procurement
Traditional procurement, also referred to as Design Bid Build or Detail and Build tends to involve a four-stage process – strategic planning, design development, tender process and delivery, with each stage of the process relying on different people within a self-appointed team.
A professional team would typically include a project manager to oversee and lead your project team, an interior designer or architect to create your designs, a quantity surveyor to manage costs, a mechanical and electrical consultant to oversee services and with some projects, specialists such as planning consultants and engineers might also need to be brought in. Your team will then generate a package of tender information and support you in selecting the right contractor to suit your needs. Once your appointed contractor is on board, their responsibilities will lie solely within the construction activities, including the management of all works, suppliers and subcontractors.
The benefits here are that you retain full control over the design for the duration of the project, so have greater ability to amend the design at any time. While this can impact cost and programme duration, some companies choose to plan this into a project timeline so they can flex to changing needs as the project progresses. Traditional procurement generally has a longer delivery time due to separate tender processes for design and construction and a longer pre-construction phase. It can also be an expensive option for smaller projects so is probably only worth exploring if your new office spans more than 30,000sqft.
The RIBA Plan of Work is one of the most commonly used documents to reference the various stages of construction projects, beginning with Stage 0: Strategic Definition through to Stage 7: Use, so is a good way to familiarise yourself with the entire traditional procurement process.


Who's in your A-team?
Business owner or Office Manager, you're probably trying to master this responsibility on top of your day job. There's pressure to get it right and plenty of multi-tasking to do. Whichever approach you choose, pulling together an in-house team is as vital as the external team you choose to work with. Deciding on the outcome you need from your project should be a cross-function effort.
Your People team will want to influence employee experience, IT and Office Management might pitch in on space and functionality requirements, and your CFO or COO will oversee things from a finance and operational perspective. Bringing insight from all areas of the business will help determine what's right for you and contribute to a new environment that meets the varying needs of your team and business.
The Thirdway
Every business has its own unique needs and ways of working, and that means office design, and how it's delivered, isn't one-size-fits-all. Thirdway is part of a family of businesses that span the commercial property industry, offering a choice of independent or combined services. Our business model is designed to suit both D&B and traditional procurement so we can flex with our clients' needs, either working independently or integrating with your appointed team.
We're a Design & Build company with a Detail and Build team who specialise in taking bigger projects from Stage 2 to completion. And our sister company, Anomaly, provides architectural services from acquisition bid support through to final handovers. Depending on the scale, scope, and timeframe of your project, we can have an open discussion about what's best for you.
Most importantly, we exist to create places where people want to work, boosting productivity and driving revenue for your business. If you're about to embark on a journey to a new office and the thought of reinvigorating your culture and brand in the process excites you, then get in touch. Because that's when we know good things are about to happen.
GET IN TOUCH
There's only so much you can learn from a website. Let's talk and see how Thirdway can work for you.