What does your workplace say about your brand?
Branding has come a long way. No longer simply a logo or letterhead, it's now regarded as a holistic experience, helping assert personality and purpose and sparking a physical and emotional relationship with all those who encounter it. And that extends to the workplace.
The most effective offices are those that succeed in taking employees and clients on a journey that reflects a company's philosophy. Integrating elements of branding into a workplace's design aesthetic and function allows a company not only to communicate its credentials to visitors but also influence employees' behaviour – and attract new ones.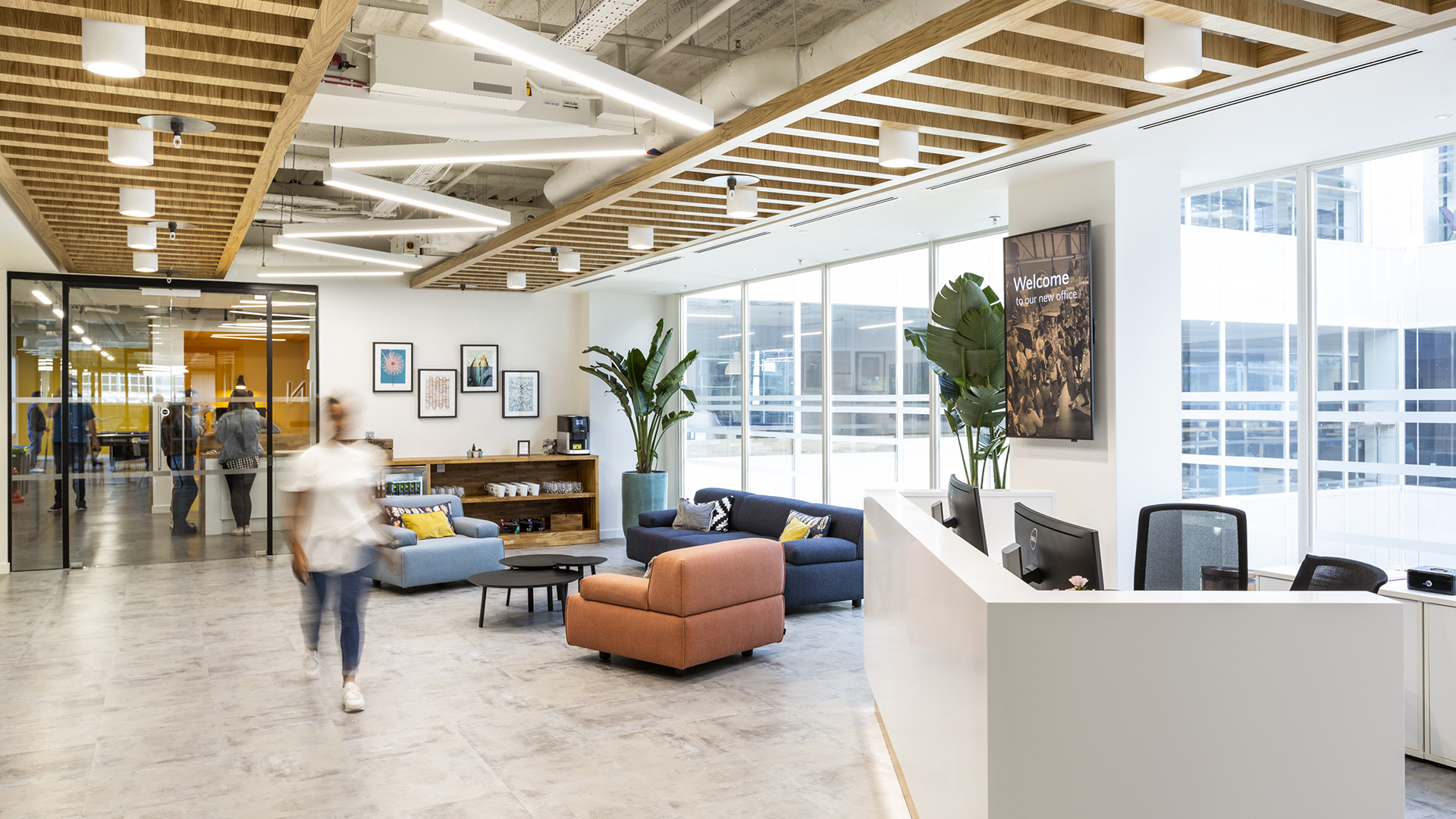 The devil's in the detail 
At Thirdway we know that branding doesn't end with a name hung above the reception desk. It's so much more than that – reflected in the choice of materials used, the details in artwork installations, the feeling people get as they arrive in the space. It's these touches that tap into people's subconscious and deliver invaluable messages or help instill a company culture.
Some clients want a wow factor – often in the entrance or reception – that might range from graffiti walls to bespoke joinery. Others opt for a more subtle immersion of the company's culture and values. Our design and creative teams are well versed in collaborating with a clients' brand and marketing teams to work out how to showcase their identity.
Fintech flare and natural charm
Leading fintech company Revolut was already undergoing a rebrand when it approached us for an office design. It became clear from talking to people in various positions within the company that Revolut had a 'feel' to its culture– something we had to quickly grasp and translate. Our response was to champion their passion for innovation through a show-stopping installation in one of their main breakout spaces. Characterised by neon lights and concrete letters against a backdrop of newspaper cuttings highlighting icons who challenged the status quo – this feature helped create a workplace defined by a powerful message.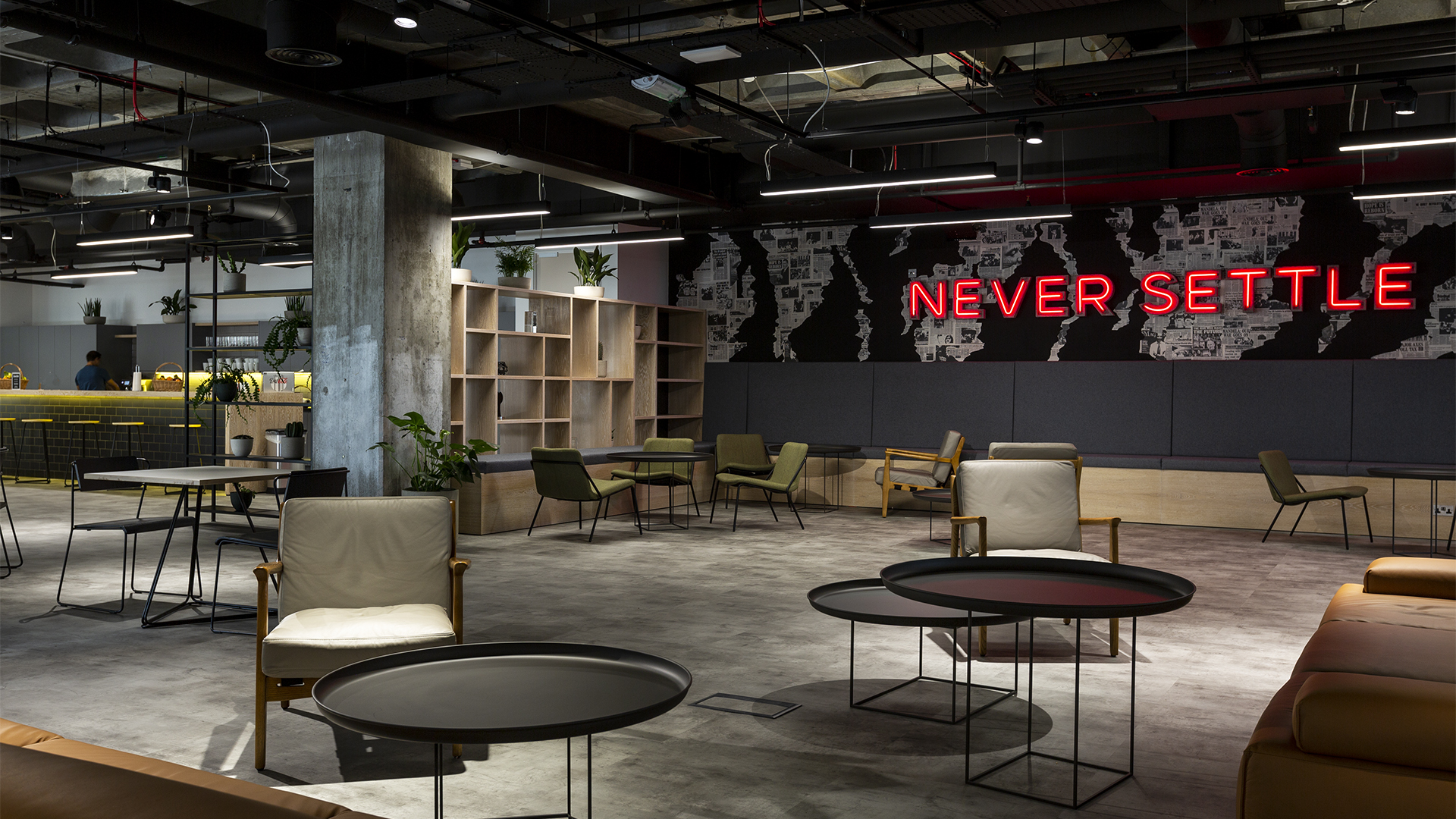 Similarly, when designing for premium drink producer Fever-Tree, it was essential we connected with the brand's core values. Given its commitment to creating a completely natural product, we chose to reflect its respect for nature and sustainability through the design materials and choice of indoor planting.
For any business undergoing a redesign and wondering how to incorporate your branding into the space, the fundamental thing is to begin the process early. If your design team understands your beliefs, goals and how your business operates then you're well on your way to integrating these ideals into a workspace that physically represents everything you are.
"You want your workspace to be the cool mum who gives you your freedom, who welcomes your mates around, is the first to put a beer in their hand and has that trippy art on her walls that gets everyone talking." – Rob Walsh, Creative Director.
Champions of brand identity 
Rather than simply a response to client briefs, brand integration is something we wear on our sleeves at Thirdway, as proven through the evolution of our own brand. Since launching in 2009, we've built a personality for the business that is a true representation of the passion, values and ethics of the people that work here.
The wolf that fronts our identity, accompanied by Kipling's famous motto "the strength of the pack is the wolf and the strength of the wolf is the pack" celebrates the individual and collective talent of our workforce. The process we have gone through to understand what we've built and what makes Thirdway what it is, is the same process of discovery and exploration that we now execute with our own clients.