From the very start, our founders have focused on the people who define Thirdway. Keeping employees happy and engaged has created a palpable team spirit and a high-energy, high-morale atmosphere that many visitors pick up on when they visit our HQ. However, a global pandemic has the potential to hit even the strongest office culture hard.
"We are a tight-knit team of real friends and we like to be together," says Hannah Grothier, our People Director. "Though we had a work from home policy pre-lockdown it was rarely used, with most valuing the convenience, collaboration and spontaneity of social occasions that the office offers."
Her aim throughout lockdown has been to keep spirits high by maintaining energy levels, engagement and wellbeing, which has been achieved by focusing on the following four things.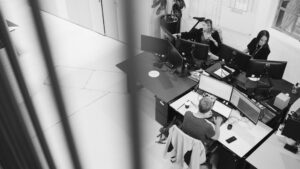 Provide stability
Whether it's via our weekly video broadcast from our CEO, newsletters (covering everything from current pitches to the team's best bakes), or email updates from our people team, regular communication provides routine and ensures no one feels like they're left in the dark.
We also encourage feedback on our CEO broadcasts, which is then responded to by the senior management team – giving transparency and keeping everyone engaged. And if there's nothing new to share, we're not afraid to say so.
Connect frequently
We aim to check in with every employee at least once a fortnight.  Reach out to people how they want to be reached – Slack, email, Zoom, Whatsapp, social media. Think about who you're communicating with, what their situation is and how is most appropriate to remind them that they are still part of the team.
Chance encounters are one of the things we miss most – and one of the toughest things to mimic. Using Zoom, we opened a virtual breakout room for two hours each day where any team member can drop in and see who's about, who's had a haircut and who's got news. Elsewhere, informal Slack channels have allowed employees to share hobbies – from podcasting to baking and art – with the team.
Raise a glass together
Among the gloomy headlines, it's important to share the good news. We send a weekly newsletter informing our team of all the things we're achieving despite the circumstances. Whether it's celebrating birthdays, anniversaries or new arrivals, lifting spirits is essential and lets staff know you're thinking of them.
Rewards make people feel good yet these shouldn't just be about professional achievements. Celebrate those who are learning new skills or the parents juggling work and family life as much as you celebrate those who quietly continue to carry out business as usual during this most unusual time.
Be supportive
It's more important than ever that employees feel they're being looked after. We sent all team members HRVST fruit and veg parcels to boost their vitamin intake and save them a trip to the shops.
To enhance their mental wellness, our skill-share programme is a forum for our talented workforce to teach or request to learn something new. From guitar to graphic design, these lessons are keeping our brains ticking over.
Many people will be open and honest about how they feel during this time – and some won't. Treat everybody with the same compassion and note what you're hearing, not just what they're saying. To help employees thrive, we created a WFH toolkit covering everything from home office ergonomics to mindfulness and personal finance.